The Tale Behind the Tale of:
Aesop's Fable of "The Town Mouse & The Country Mouse"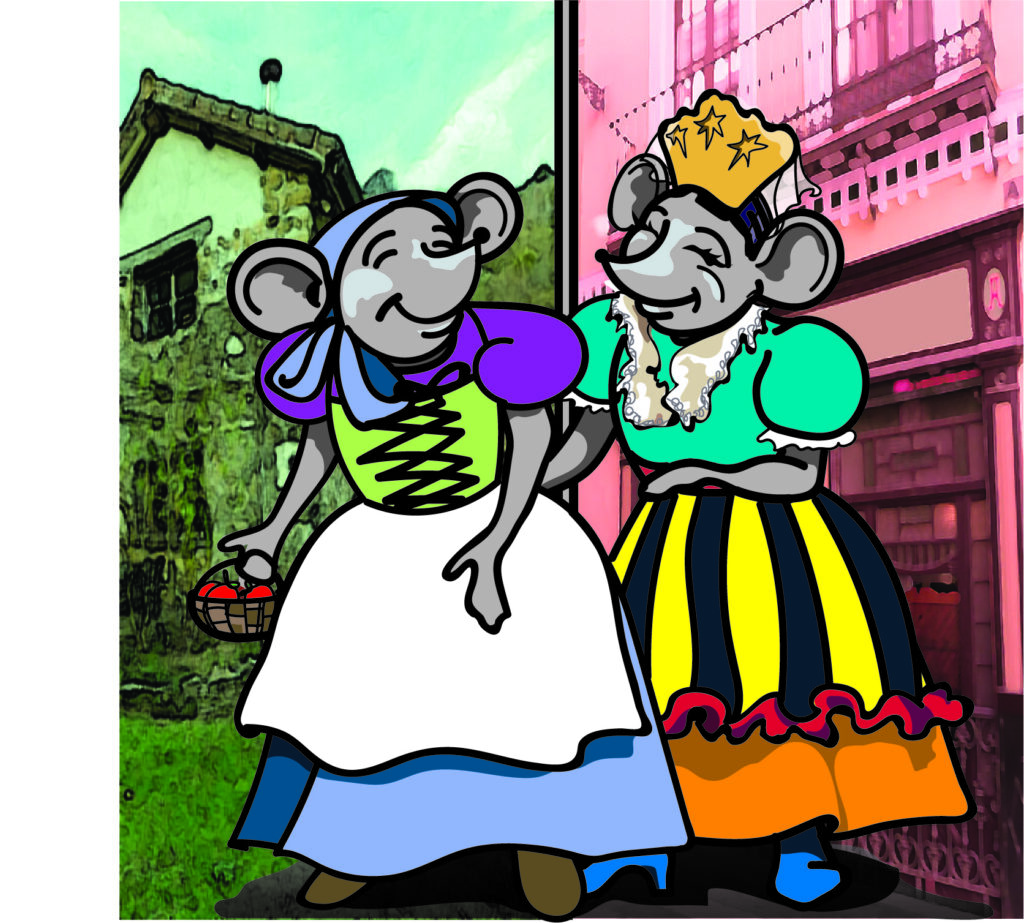 The fable about the simple Country Mouse who visits her city cousin is one of the most familiar tales from the collection of stories by the Greek storyteller, Aesop. When writing the adaptation of this story, I decided to set it in the country of Spain. Partly because I was excited to be able to use some of the wonderful Spanish rhythms for the songs and partly because Spain is a country where there is still a big difference between the lifestyles of those who live on country farms and those who live in the vibrant cities.
Cheese, Please.

One of my favorite songs from our musical adaptation of "The Town Mouse & The Country Mouse" is all about different types of cheese. Señor Topo, the cheese shop owner, sings about all the many kinds of cheese that are available in his shop so that Marta, the Country Mouse, can decide which cheese she wants. I like cheese. There are several types of cheese that I absolutely love. But I had no idea just how many different flavors and types of cheese there are until I began researching them for this song. Like our Winking Kat tales every type of cheese has its own appeal depending on where it comes from. Here's the list of cheeses I used in the song and a little bit about them.
As Señor Topo sings, he lists eighteen different cheeses he sells in his shop. Click here to see the full list and a little about each type of cheese. Could you buy your favorite cheese in his shop?

Waterloo – a semi-soft cheese from England that's made from the milk of Guernsey cows.
Wensleydale – a crumbly, slightly sweet cheese made in the North Yorkshire district of England; it was made very famous by being the Wallace's favorite cheese in the "Wallace and Gromit" cartoons
Edam – a semi-hard cheese originally from Northern Holland; it can be made with either cow or goat milk
Chevre – a tangy, tart, usually soft cheese made from goat milk
Paneer – a soft, crumbly cheese from India made with whole milk and lemon juice
Beaufort – a soft, creamy cheese from Southeastern France (near the Alps) that melts easily and is often used for fondue
Cheddar – a hard, sharp cheese originally made in Southwestern England; it's made from cow's milk and was often aged in the limestone caves in the area
Mascarpone – a soft, creamy, sweet cheese originally from the Lombardy region of Italy; it's often used in desserts like tiramisu
Passendale – a firm, slightly sweet cheese from Belgium; known for having lots of small holes throughout
Mondseer – a semi-hard cheese from Austria noted for its reddish rind and disk-like shape
Peccorino – a hard, salty cheese from Italy that's traditionally made from sheep's milk
Neufchatel – a soft, crumbly cheese originally from the Normandy region of France; it's thought to be one of the oldest types of cheese in the history of French cheese making
Yarg – a semi-hard cheese that originated in Cornwall, England; it's made from cow's milk and is very unusual because the cheese aged while wrapped in nettle leaves that eventually form the rind
Feta – a soft, crumbly cheese from Greece; it's made from sheep's milk (that is sometimes blended with a little goat's milk) and aged in a bath of brine or salt water
Brie – is a soft, creamy cheese from France that's usually made from cow's milk; it's always wrapped in an edible rind made from mold that forms around the cheese as it ages
Parmigiano – a hard cheese from Italy – sometimes called Parmigiano-Reggiano – is made from skimmed cow's milk; to qualify as real Parmigiano cheese it must fulfill a list of rules including that it is aged for between 2 – 3 years at least
Zamorano – a hard Spanish cheese made from raw sheep's milk; it originally comes from the Castile-Leon region of Spain
Romano – a hard cheese from Italy made with ewe's milk; also called Peccorino (see above)
---
Ernesto
One of the scariest characters in the tale of "The Town Mouse and The Country Mouse" is Ernesto, the owl. Owls are one of the most fearsome predators as far as mice are concerned. Not only do they have incredibly sharp beaks and needle- like talons, but their wing feathers are designed to allow them to fly without making a sound. That allows them to sweep down through the dark sky and capture their unsuspecting prey.
For hundreds of years, people have wondered how owls could fly so silently. We now know there are two very unique features that give them this special talent. According to the Audubon Society, an owl's wings are usually much larger in proportion to their body compared to other birds. That means they don't have to flap their wings as hard or as quickly to give themselves lift. Less flapping means less opportunity for noise.
Second, even when they do flap their wings, their feathers are specially designed to pass through the air more quietly. Both the leading edge and the back edge of the feather are 'feathered'. That means they are fringed and the segments of the feather edges aren't solid. The edges look almost like a comb. That allows for air to pass through the feathers with as little disturbance as possible. Less disturbance mans less noise.
The owl is the perfect, stealthy, night predator. Marta and Maria have every reason to hide when they see his shadow across the moon.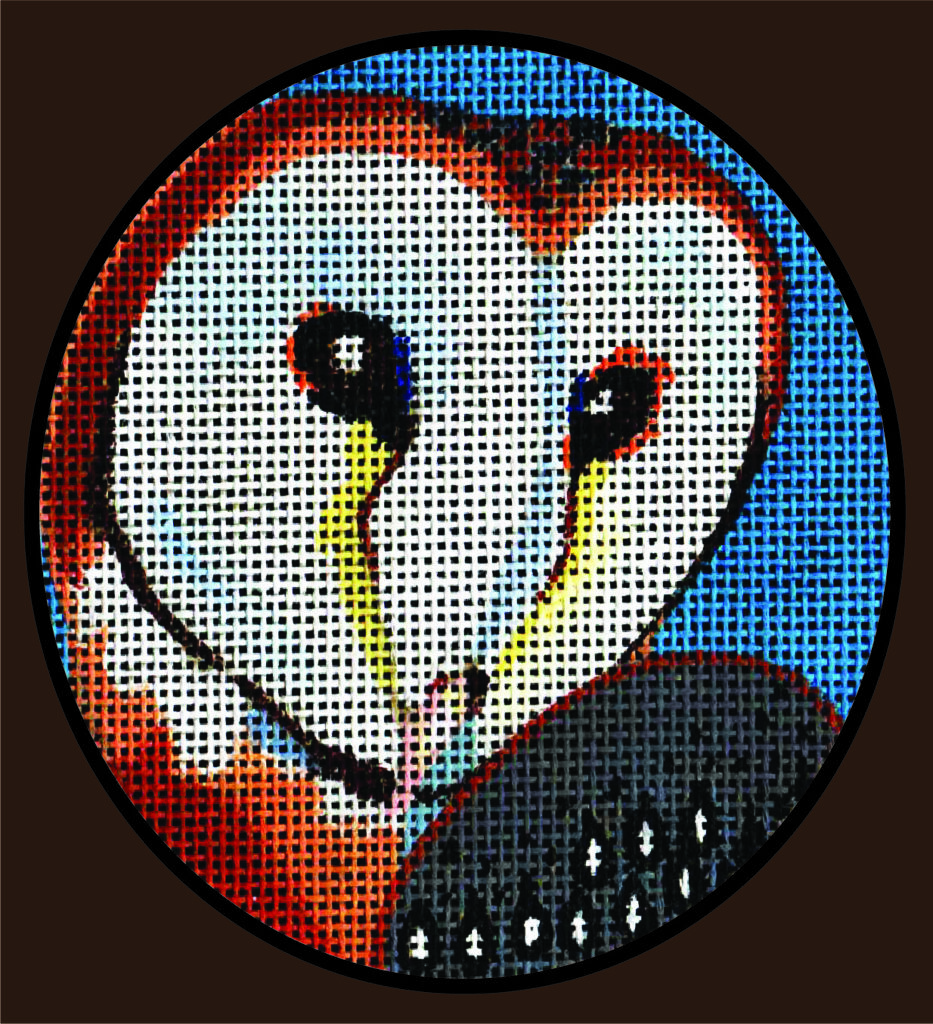 What is a Coypu?
One of the most frequent questions I am asked when people listen to this show is, 'What is a coypu'. Raphael, the coypu, doesn't appear in the play until the very end, but he is still an extremely important character. It's shy and sweet Raphael who offers Maria a safe journey back to her home in the city. He describes himself a little in the play, but I thought it would be even better to show you what a real coypu looks like.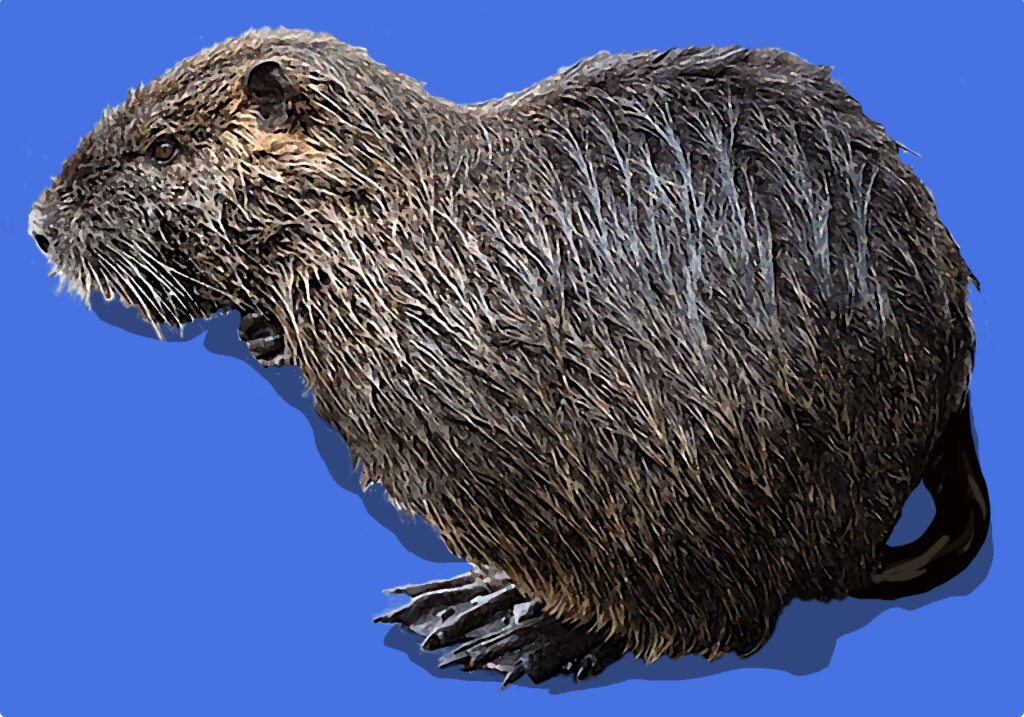 Coypus or Nutria are similar to muskrats but bigger. Much bigger. A Coypu can weigh up to 22 pounds. Originally from South America, they traveled to Europe with the Spanish explorers on their ships. They like to live nears streams and build big soccer ball-sized nests in the ground near their favorite stream. They are in the rodent family and use their large, beaver-like teeth to eat aquatic plants that grow in the streams. Their tails look less like a beaver tail and more like a rat's tale – long and rope-like. They have webbed feet to help them swim.
A Spanish Favorite: Albondigas (or Meatball) Soup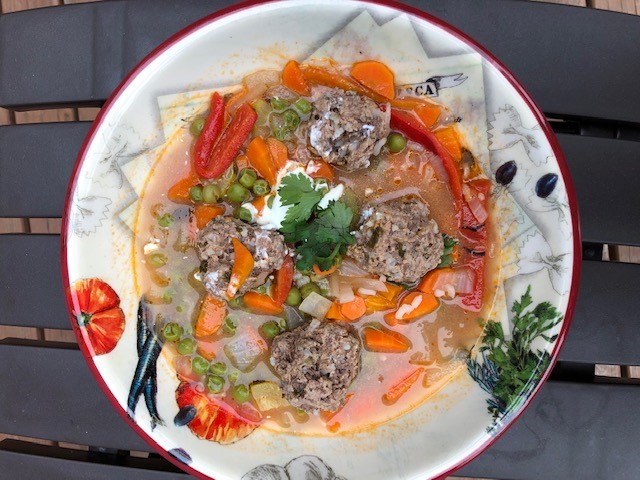 Depending on the season or your a person's individual tastes, recipes can vary. But here is a basic recipe for this delicious soup – with some small changes we made to take advantage of some vegetables from our summer garden. And we've even added some cheese to the recipe – in honor of Marta and Maria.
Preparing the broth; you'll need…
2 Tbsp olive oil
1 large onion – chopped into medium pieces
1 garlic clove – minced (about 2 Tbsp of minced garlic from a jar)
2 quarts unsalted chicken broth
1 quart water
2/3 cup tomato sauce (about 8 oz can)
1 Tbsp paprika
Cayenne pepper powder (to taste)
Salt & Black Pepper (to taste)
In a large soup pot (thick bottomed 4 – 5 gallon pot) heat the olive oil. Add the chopped onion stirring periodically until the onion sweats and softens – about 4- 5 minutes. Add the garlic and stir for about 1 minute. Do not let the garlic burn. Add the chicken broth, water, tomato sauce, and spices. Bring to a boil uncovered and let simmer until the mixture reduces slightly.
While the broth is simmering, make the meatballs.
Ingredients for the meatballs & vegetables
1 lb ground beef (not extra lean) or you can use ground turkey or chicken
1/3 cup uncooked white rice (Jasmine or Basmati are good – just don't use instant rice)
1 egg
1/4 cup chopped fresh mint leaves
1/4 cup chopped Italian parsley or dried parsley flakes
1/4 cup chevre or soft goat cheese
Salt & Pepper
2 large carrots- diced into bite-size pieces
2 medium zucchini – with the skin slightly shaved, then diced into bite-sized pieces
1 1/2 cup frozen peas
1/3 cup julienne sliced pieces of roasted red and yellow peppers (fresh or from a jar)
1 tsp of dried oregano
chopped cilantro for garnish
Mexican crema
Mix the ground meat with the rice, the egg, chopped mint, chopped parsley, and salt and pepper. Pull out portions of the meat mixture and flatten in your hand. In the center place a pea-sized amount of the goat cheese. Fold the meat around it an roll it in your hands to form a meatball about 1″ in diameter. Repeat until all the meat is used. Gently, place the raw meatballs in the simmering broth. Add the diced carrots to the broth as well. Cover and set timer to 30 minutes.
After 15 minutes, add the chopped zucchini and roasted peppers. After 20 minutes, add the frozen peas. You may also want to add a little more chopped mint leaves. Taste the broth and add the oregano and more salt and pepper if desired. Cover and continue cooking until 30 minutes are up. Serve and garnish with fresh, chopped cilantro and some Mexican crema if desired.
Tweet and let us know if you try this fun and delicious recipe.
I made Albondiga soup!

Tweet